Brought to you by:
Notice: Trying to get property 'Name' of non-object in /var/www/html/trivita-ca/wp-content/themes/trivita/header.php on line 216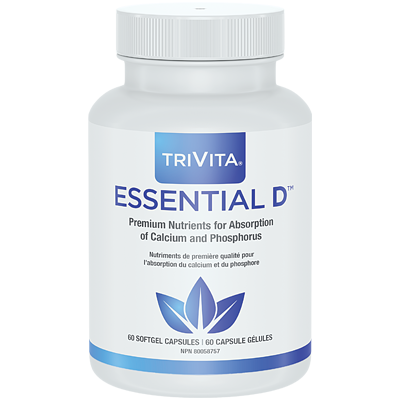 Essential D
60 Soft gels1 Soft gel per serving$16.99
Manufactured by FDA,
cGMP licensed facility.
Health Category Click on the icon for description
A strong body needs strong defenses. If you're a busy person who needs to stay at the top of your game, you depend on a healthy immune system. Help support your health and well-being with TriVita's quality supplements. With premium ingredients sourced from around the globe, add these unique products to your "must-have" list.

Do you sometimes feel like your "get up and go" just "go up and went"? Keep your batteries charged and powerful with TriVita's line of energy support supplements. Life takes vitality, stamina and focus.. Don't just get by – get in gear toward your goals, every day.

While many of us take for granted our body's ability to move easily, for others, it can be a struggle. As we age, we can lose bone mass and the elasticity we had in our younger years – and that can bring limitation. Get the protection and strength you need to keep up with the life you live in motion.

Everybody needs a base from which to achieve optimum health and wellness. We call it the healthy foundation, with TriVita's nutritional support supplements, developed to be the cornerstone of your good health. Let these high-quality vitamins and minerals help you build wellness, right from the start.
Essential D
An absorbable sunshine vitamin for life!
Best known for supporting bones, Vitamin D has more recently made headlines as an overall health enhancer. The problem? Many of us don't get enough. This is a major concern: 1+ billion people worldwide fall short on Vitamin D, and may face elevated health risks as a result.1, 2
Essential D is formulated with 1,000 IU (International Units) of Vitamin D
Convenient once-a-day formula
Contains Vitamin D3 (Cholecalciferol), the same form of Vitamin D that is created by your body
Easy-to-swallow soft gels
Read More
Essential D: Absorbable Vitamin D3
Designed for easy absorption, Essential D contains 1,000 IU of Vitamin D3 (Cholecalciferol), a bioavailable form that matches what your body produces naturally.
Benefits of Vitamin D3
Helps in the development and maintenance of bones and teeth
Helps to prevent vitamin D deficiency
Helps in the absorption and use of phosphorus
Some causes of Vitamin D deficiency may include
Getting older: Vitamin D gets harder to absorb and synthesize with age.5
Staying indoors: Your skin needs sunlight in order to make Vitamin D.
Sunblock: Using SPF 8+ may reduce the skin's Vitamin D synthesis by 95%.6
Overweight: Carrying extra pounds may create D insufficiency risks.7
Product Information
Adults and adolescents 14 and over, take one (1) soft gel one time daily. If you are pregnant, nursing or on medications, you may want to consult with a healthcare provider before using. Keep out of reach of children. To report a serious adverse event or obtain product information, contact 1-800-991-7116. Information provided herein is for informational purposes only.
View Details

If you are not fully satisfied with your purchase, you will receive a full refund, less shipping and handling, within 60 days of the order date. Please call our toll-free number for complete details at 1-877-850-2968, or to receive instructions for returning products for a refund.
Frequently Asked Questions
Q: Isn't Vitamin D primarily just for bone health?
This reference may help and be sure to use, if so: https://www.verywellhealth.com/vitamin-d3-5082500
1 Vitamin D Deficiency and Related Disorders, http://emedicine.medscape.com/article/128762overview
Q: How much Vitamin D should I take daily?
The suggested use is one (1) Essential D soft gel daily for adults and adolescents 14 years and older.