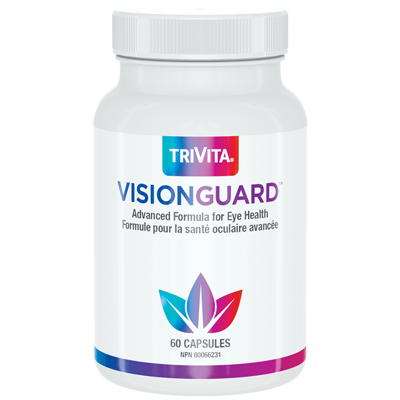 VisionGuard™
60 Capsules2 Capsules per serving$32.99
Health Category Click on the icon for description
Vision is a gift that draws us into every moment, whether it's seeing a baby smile, viewing a breathtaking sunset or admiring a perfectly-struck golf ball. What a priceless gift – and what could deserve protection more? Let TriVita's targeted supplement help you do all you can to keep your world in focus.
VisionGuard™
Keep an eye on your vision
Over time, vision can decline, possibly due to age-related free radical damage to delicate eye tissues.1 Certain antioxidants help neutralize free radicals in the eyes—and VisionGuard brings you the best of them.
Help protect the priceless gift of sight
Vision is a gift that draws us into every moment, whether it's seeing a baby smile, viewing a breathtaking sunset or admiring a perfectly-struck golf ball as it plops on the green. Just like your body, your eyes and vision change over time. Aging changes in various parts of the eye can result in a number of noticeable differences in how well you see. Common age-related vision changes include the need for more light, difficulty reading or doing other close work, problems with glare, reduced tear production and changes in color perception. There's no substitute for the quality of life good vision offers. Adding certain nutrients to your diet every day—either through foods or supplements—can help support vision health.2-4
Read More
VisionGuard: See life more clearly
VisionGuard is packed with eye-supportive antioxidants that help to:
Maintain eyesight in conditions (associated with sunlight damage), such as cataract and age-related macular degeneration
Reduce the risk of developing cataracts
Improve macular pigment optical density
It all starts with FloraGLO® lutein and zeaxanthin: botanical antioxidants that support vision health,5,6 but decline in our eyes with age.7 These two key antioxidants:
Migrate naturally to the eyes, settling in the lens, macula and "high definition" fovea8
Act as internal sunglasses, filtering and absorbing the sun's macula damaging UV rays9,10
Replenish macular pigment, a protective retinal layer tied to crystal clear vision11,12
Start nourishing your eyes with VisionGuard today!
Product Information
If you are pregnant, nursing or on medications, you may want to consult with a healthcare provider before using. Keep out of reach of children. To report a serious adverse event or obtain product information, contact 1-800-991-7116. Information provided herein is for informational purposes only.
View Details

If you are not fully satisfied with your purchase, you will receive a full refund, less shipping and handling, within 60 days of the order date. Please call our toll-free number for complete details at 1-877-850-2968, or to receive instructions for returning products for a refund.
Frequently Asked Questions
Q: How much VisionGuard should I take daily?
There are no known contraindications with VisionGuard and medications. However, VisionGuard is a dietary supplement. If you are taking any medications and have a known medical condition, it's best to consult with your healthcare provider before taking VisionGuard.
Q: Is VisionGuard safe for everyone?
Pregnant and nursing women should consult with their healthcare provider before taking VisionGuard.