Brought to you by:
Notice: Trying to get property 'Name' of non-object in /var/www/html/trivita-ca/wp-content/themes/trivita/header.php on line 216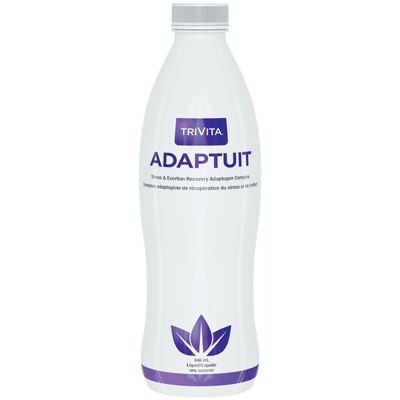 Adaptuit™
32 oz2 fl oz per serving (60 ml) per serving$42.99
Manufactured by FDA,
cGMP licensed facility.
Health Category Click on the icon for description
Pressure rising? Dial it down. Stress can cause a multitude of issues in our lives, from lack of sleep to changes in eating patterns. Sometimes, we can make changes to reduce some of life's stressors. But when that's not practical or possible, TriVita can help you find your peace with stress support supplements.

Do you sometimes feel like your "get up and go" just "go up and went"? Keep your batteries charged and powerful with TriVita's line of energy support supplements. Life takes vitality, stamina and focus.. Don't just get by – get in gear toward your goals, every day.
Adaptuit™
Your Daily Stress Formula – Now With L-Theanine!
Stress can be a real killer! While stress can't be eliminated, you can help your body overcome its negative effects with Adaptuit. It's uniquely formulated to:
Help relieve the negative effects of daily stress
Promotes relaxation
Enhance performance
Increase vitality
Improve overall health
Increase energy
Increase resistance to stress
Adaptuit. The powerful daily stress reliever. Order today.
Read More
Don't just cope. Take control.
Stress is killing us! You may not realize it, but stress is one of the four fundamental causes of all disease and disability. Adaptuit is formulated with a very special type of ingredient – Adaptogens. These adaptogens are the balancers of stress – they help to pull us back together when stress is tearing us apart.
Adaptuit is loaded with adaptogens – it's a power-packed drink that's the enemy of stress. Within minutes of drinking Adaptuit, all 10 of the Adaptogens in its formula begin to rescue your cells from the destructive influence of stress, whether that comes from our environment, such as air and water pollution, from inside of our body, such as from too much or too little exercise, or even from our own mind when it's worried about problems from work or home.
Why we created Adaptuit
Adaptuit is specially formulated to:
Help the body adapt to daily stress and stressful encounters
Combat the effects of mental, physical and environmental stressors after periods of exertion
Enhance mental and physical performance, especially during stressful times
Increase vitality and improve overall health
Adaptuit also has a delicious taste and comes in liquid form, which makes it easy to drink.
How adaptogens fight stress
Adaptogens thrive in the harsh regions of Siberia where only the most robust vegetation can survive. They must adapt to extremely stressful conditions – and that makes them even hardier. You are the ultimate beneficiary of these adaptogens because they will help make you resilient to the harsh, demanding conditions of modern life.
Adaptogens at work
Your body triggers a "fight or flight" response under extreme stress. Then your adrenal gland releases strong hormones into your bloodstream which affect many of your body's systems and functions. When stress is always present, your body's stress response is always "on." Adaptogens send a clear message to the body that the crisis has eased, once again allowing the body and its systems to return to a state of balance.
Adaptuit. It's the powerful solution for today's stressful world.
Product Information
Consult a health care practitioner if symptoms persist or worsen. Consult a health care practitioner prior to use if you are breastfeeding, if you have any type of acute infection, if taking antidepressant medication, if you are taking hormone replacement therapy (HRT) or birth control pills. Do not use if you have high blood pressure. Do not use if you are pregnant. If you have bipolar or bipolar spectrum disorder, do not use this product. If you experience irritability or insomnia, discontinue use.
View Details

If you are not fully satisfied with your purchase, you will receive a full refund, less shipping and handling, within 60 days of the order date. Please call our toll-free number for complete details at 1-877-850-2968, or to receive instructions for returning products for a refund.
Frequently Asked Questions
Q: What does Adaptuit taste like?
You'll be surprised at how good the delicious grape flavor is! Shake well before using. For optimal taste, please refrigerate before consuming.
Q: What are adaptogens?
Adaptogens are plants that not only increase resistance to stress, but also boost concentration, performance and endurance when we're tired.
In one study published in the journal Phytomedicine, researchers found that certain adaptogens used together can boost the stress response, and also increase tolerance to stress. The adaptogens they studied were a combination of Eleutherococcus senticocus, Schisandra chinensis and Rhodiola rosea.2
2 Panossian A., Wikman G., Kaur P., Asea A. Adaptogens exert a stress-protective effect by modulation of expression of molecular chaperones. Phytomedicine. 2009 Jun;16(6-7):617-22. doi: 10.1016/j.phymed.2008.12.003. Epub 2009 Feb 1. Abstract available at: http://www.ncbi.nlm.nih.gov/pubmed/19188053
Q: How much should I take daily?
Take 2 ozs (60ml) one time per day. Do not take immediately before bedtime.
Q: Is there anyone who shouldn't take Adaptuit?
Pregnant or nursing women, anyone with injuries or diseases involving the brain or nervous system (for example chronic migraines or epilepsy), and persons recovering from surgery should check with their healthcare professional before trying Adaptuit.
Q: Are there any drug interactions?
There are no known drug interactions, but it's a good idea to check with your healthcare professional if you're concerned.
Q: Can vegetarians, vegans and people with yeast allergies take it?
Adaptuit contains no animal by-products and is completely plant based, so anyone with meat or wheat restrictions can take it.
References
Bose, M., Oliván, B., & Laferrère, B. (2009). Stress and obesity: the role of the hypothalamic–pituitary–adrenal axis in metabolic disease. Current Opinion in Endocrinology, Diabetes, and Obesity, 16(5), 340–346.
Engs, R.C. Alcohol and Other Drugs: Self Responsibility. Tichenor Publishing Company, Bloomington, IN, 1987.
Szabo S, Tache Y, et al. (2012). The legacy of Hans Selye and the origins of stress research: a retrospective 75 years after his landmark brief "letter" to the editor# of nature. Stress, Sep;15(5):472-8.
Winston, David, and Maimes, Steven. Adaptogens: Herbs for Strength, Stamina, and Stress Relief. Rochester, VT: Healing Arts Press, 2007. Print.
Facchinetti F, Neri I, et al. (2002). Eleutherococcus senticosus reduces cardiovascular stress response in healthy subjects: a randomized, placebo-controlled trial. Stress and Health. Volume 18, Issue 1, pages 11–17.
Grace MH, et al. Comparative analysis of phenolic content and profile, antioxidant capacity and anti-inflammatory bioactivity in Wild Alaskan and commercial Vaccinium berries. J Agric Food Chem 2014;62(18):4007-4017.
Goyali JC, et al. Morphology, phenolic content and antioxidant capacity of lowbush blueberry (Vaccinium angustifolium Ait.) plants as affected by in vitro and ex vitro propagation methods. Can J Plant Sci 2013;93:1001-1008.
Cheng J, et al. An evidence-based update on the pharmacological activities and possible molecular targets of Lycium barbarum polysaccharides. Drub Design, Development and Therapy 2015;9:33-78.
Panossian A, Wikman G. Pharmacology of Schisandra chinensis Baill: An overview of Russian research and uses in medicine. J Ethnopharmacol 2008;118(2):183-212.
Darbinyan V, Kteyan A, et al. (2000). Rhodiola rosea in stress induced fatigue — A double blind cross-over study of a standardized extract SHR-5 with a repeated low-dose regimen Darbinyanon the mental performance of healthy physicians during night duty. Volume 7, Issue 5, October 2000, Pages 365–371.
Head KA, Kelly GS. Nutrients and botanicals for treatment of stress: Adrenal fatigue, neurotransmitter, imbalance, anxiety, and restless sleep. Alt Med Rev 2009;14(2):114-140.
Yan-Lin SY, Lin-De L, Soon-Kwan H. Eleutherococcus senticosus as a crude medicine: Review of biological and pharmacological effects. J Med Plants Res 2011;5(25):5946-5952.
Huang L, et al. Acanthopanax senticosus: review of botany, chemistry and pharmacology. Pharmazie 2011;66:83-97.
Cicero AFG, et al. Effects of Siberian Ginseng on elderly quality of life: A randomized clinical trial. Arch Gerontol Geriatr 2004;Suppl 9;69-73.
Mocan A, et al. Comparative studies on polyphenolic composition, antioxidant and antimicrobial activities of Schisandra chinensis leaves and fruits. Molecules 2014;19:15162-15179.