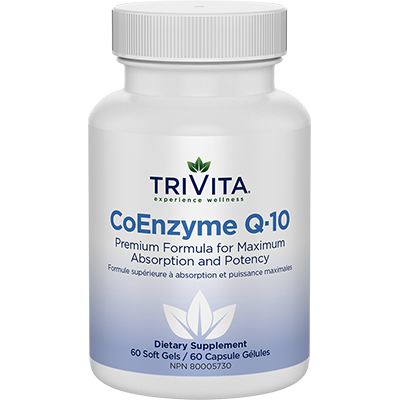 CoEnzyme Q-10
60 Soft gel's1 Soft gel per serving$32.99
Health Category Click on the icon for description
Help guard your heart, and you'll guard your health. The heart keeps blood pumping throughout the body, so it's important to keep this remarkable organ strong and the blood vessels clear. Help your heart keep the beat: eat right, enjoy exercise, don't smoke and consider these essential nutrients from TriVita.

Do you sometimes feel like your "get up and go" just "go up and went"? Keep your batteries charged and powerful with TriVita's line of energy support supplements. Life takes vitality, stamina and focus.. Don't just get by – get in gear toward your goals, every day.
CoEnzyme Q-10
Support a healthy heart and more
CoEnzyme Q-10 (CoQ-10) helps ignite the fuel for your entire body
Many experts believe that CoQ-10 is the key spark that ignites your body's fuel – the fuel that generates most of the total energy required by your body.
But if you're over 50 or taking statin drugs, your body may not be producing as much CoQ-10 as it should. That's when supplementation becomes crucial.
TriVita CoQ-10 is formulated to:
Support cardiovascular system health
By stimulating insulin production
Strengthen immune and nervous systems
Replenish your body's vital CoQ-10 reserves if you're over age 50 or taking a statin drug
Plus, studies show that TriVita's oil-based form of CoQ-10 works best and maximizes potency because it's more absorbable than the dry tablet form often found in drugstores

TriVita's CoQ-10 is formulated to be in perfect balance for your body's nutritional needs. Power up today!
Read More
Protect your health with this essential nutrient

What exactly is CoEnzyme Q-10?
CoQ-10 is the perfect combination of vitamins, antioxidants and Omega-3 fats, and is created when all of these important nutrients combine inside every one of your millions of cells. Without enough CoQ-10, your body cannot operate at peak function.

Studies show that after age 50, CoQ-10 levels drop by about 50%, making supplementation crucial to continued good health. Plus, if you're taking statin drugs, you may be at even higher risk for decreased CoQ-10 levels.

Signs of deficiency
In the early stages, deficiency may manifest itself in a wide variety of dental problems. If you suffer from sensitive teeth, bleeding, swollen or shrinking gums, your body may be telling you that you've exceeded your ability to produce CoQ-10.

Who should take CoQ-10?
If one or more of the statements below apply, you may be a prime candidate for CoQ-10 supplementation:
You are over 50
You want greater stamina (some use it as a performance enhancer)
You have gum problems or sensitive teeth
You take a statin drug:

Several studies have confirmed that statin drugs interfere with CoQ-10 production, causing blood levels of CoQ-10 to drop. Discuss CoQ-10 supplementation with your healthcare provider
What's the best CoQ-10 supplement for you?
Not all supplements are created equal. Remember: It's not how much you take, but how much you absorb that counts. Studies show that CoQ-10 in an oil-based form – like TriVita's – works best and maximizes potency because it's more absorbable than the dry tablet form often found in drugstores.

If you're at risk for low CoQ-10 levels, you owe it to yourself to see how TriVita CoEnzyme Q-10 can make a difference. Order yours now.
Product Information
If you are pregnant, nursing or on medications, you may want to consult with a healthcare provider before using. Keep out of reach of children. To report a serious adverse event or obtain product information, contact 1-800-991-7116. Information provided herein is for informational purposes only.
View Details

If you are not fully satisfied with your purchase, you will receive a full refund, less shipping and handling, within 60 days of the order date. Please call our toll-free number for complete details at 1-877-850-2968, or to receive instructions for returning products for a refund.
Frequently Asked Questions
Q: What is CoEnzyme Q-10?
CoEnzyme Q-10 (CoQ-10) is a vitamin-like substance found in almost all of your cells, with higher concentrations in the heart, liver, kidneys and pancreas. CoQ-10 levels decrease with age1; without enough CoQ-10, your body may not operate at peak function.
1 Coenzyme Q-10. Medline Plus, National Institutes of Health. Retrieved from: http://www.nlm.nih.gov/medlineplus/druginfo/natural/938.html
Q: How much CoQ-10 should I take?
Adults and children over the age of 12, take 1 to 3 soft gels daily.